Martin Illingworth
Engaging All Learners - Supporting 'Difficult' Learners - Literacy and Oracy
As you would expect from someone whose first book for us was called Think Before You Teach, Martin asks a lot of questions. What are you about to teach and why? Who you are about to teach and what do you know about them and their lives? How are you going to teach it? Is that the best way and, if so, best for whom?
And that's just the start.
In his no-nonsense style, Martin helps teachers remember why they came into the job in the first place – a love of subject, a desire to make a difference, the enjoyment of working with young minds, a passion for social equity – and then helps them get back to teaching from that place. 
And in motivating, engaging and challenging educators, he demonstrates how they can better motivate, engage and challenge their learners too. Even the hard-to-reach ones.
"Make it relevant, make it real, make it count and, above all else, fill them with hope."
Martin Illingworth
Recent titles include:
The power of reading and writing to change lives

What every teacher can do about building student confidence

Would you like being a student in your classroom? Support and guidance for early career teachers
Martin is a writer, researcher and Senior Lecturer at Sheffield Hallam University's School of Education, as well as a consultant for The National Association for the Teaching of English and a regular speaker for Independent Thinking, whether that is speaking at conferences, working with new or trainee teachers, delivering whole-school INSET sessions or focusing specifically on English, literacy and oracy.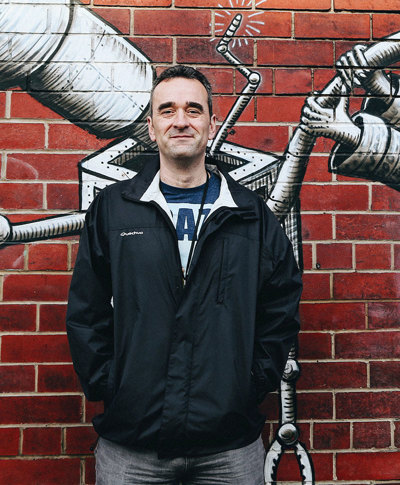 Helping improve teaching and learning by reflecting creatively on what, why, who and how is one thing. Thinking about how we make sure we offer a curriculum that is fit for purpose in the 21st century is another.
How do we create meaningful, engaging experiences in our classrooms that are academically sound but also honest enough to reflect the new environment young people are entering in our post-Covid, climate-challenged world?
This creative challenge to schools comes across in Martin's second book for the Independent Thinking Press, Forget School, which grew out of research he conducted with young people whose career success came despite, not as a result of, much of what they were learning at school.
What changes are needed to ensure the schools can help prepare everyone for the lives ahead of them and how can we go about making those changes and not get left behind?
Martin is also in demand for his work with schools in partnership with performance poet and Independent Thinking Associate Mikey Markham (AKA Rhythmical Mike). This unique collaboration sees them working together both to help teachers in their approaches to some of our most hard-to-reach young people as well as working directly with children and students on poetry, performance and the power of education.
A humorous, engaging, experienced and honest speaker, Martin challenges educators to think deeply about their craft, to reconnect with the passion that took them into teaching to begin with and to make sure they are offering the best possible education to all the children and young people in their care.
Great external speaker – motivating and inspiring but most importantly engaging. A very thought provoking talk!
Martin Illingworth was very motivational…pinning knowledge to emotions or feelings…laugh – cry – remember
It's hard to concentrate when you are laughing so much. On the other hand, Martin Illingworth is passionate about teaching kids and the poignant moments make you think about what you are doing
Martin Illingworth's philosophy is inspiring
Most inspiring talk I've ever listened to. I felt very emotional at times and it has really made me think about my role as a teacher. Every school needs to have you and Mikey Markham visit them!
The feedback from all staff was really positive, with lots of people commenting on how "motivating" and "insightful" your session was
It was really helpful in allowing staff to reflect on their practice and will have a real impact. Thank you for this
Martin Illingworth In His Own Words
"WE MUST OFFER CHILDREN AN EDUCATION OF HOPE; THAT THEIR LIVES
RIGHT NOW HAVE PURPOSE AND DELIGHT, AND THAT THE FUTURE IS
LOOKING BRIGHT…' - THINK BEFORE YOU TEACH
Enjoy a free consultation. Make a booking.
Haggle a bit. All acceptable.