Haili Hughes
Mentoring and Coaching - Disadvantaged Students - Teaching to the Top
Haili is a lady on a mission.
Well, three actually.
First and foremost, as someone close to the classroom, she has always been committed to the young people in her care. Working until very recently full time in a successful secondary school in the north of England, Haili not only knows how to ensure all students excel academically, but also that no-one needs to be bound by the circumstances around them.
In other words, through her experience teaching English, she teaches that nothing is written.
Indeed, as if to prove her point, from her council estate roots where she was the first in a family of eight to stay in school post-16, she battled through homelessness to complete three Masters degrees, is half way through a PhD, is a regular TES contributor and has not one but three books out so far with two more scheduled for next year.
Since leaving full-time teaching Haili has been able to expand her influence on education in a number of directions from teacher training at Sunderland University, where she also leads on mentoring development, and working on the Early Careers Framework with UCL to delivering the NPQ in Leading Teacher Development for Teach First and her appointment as Head of Education for Iris Connect.

"Every teacher's a leader in their own classroom; you leave lasting legacies on everyone you meet."
Haili Hughes
Recent titles include:
Teaching to the Top: Lifting the lid on learning

Coaching and mentoring to help teachers thrive, not just survive

Beyond the labels: Helping disadvantaged students shine
Always a teacher at heart, Haili is committed to ensuring that her personal and professional experience and wisdom are put to good use fighting for the highest quality teaching for all children. None more so than those from more challenging backgrounds where there is so much in the system that seems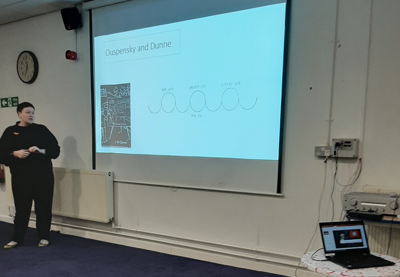 stacked against them. 
Haili combines such experiences with her creativity in teaching and learning to support teachers in all subject areas learn how to reevaluate their practice.
In particular - and this is her second mission - she encourages them to rethink their approach to children from poorer socio-economic environments. 'I was those children', she says, and her impressive track record in transforming the academic achievements of 'those children' clearly speaks for itself.
Haili's third mission is all about ensuring great classroom teachers can be just that - great teachers who stay in the classroom. Having experienced the transition to school leadership, she realised it wasn't for her. Not one to sidestep an important decision where her values were at stake (she had previously walked away from a high-flying journalism career to retrain as a teacher when it was clear that her values no longer matched those of her employer), returning to the classroom allowed her to be the teacher she wanted to be
One of the many reasons Independent Thinking Associates stand out is the tales we have to tell from our own lives. No one can tell us what it's like. As one of our newest Associates, Haili is no different and we suggest that we can all learn a lot from the indomitable Haili Hughes.
She was engaging, knowledgeable and enthusiastic. After 25 years teaching this text, I thought I knew it all, but I came away with new ideas, a greater understanding and some inspiration!
She is a clear concise and confident speaker. Her sessions are always well researched, engaging and thought provoking
Haili is a really powerful speaker. Her understated, humble approach gives her words great authenticity – particularly when combined with the depth of thought that has gone into what she has to share.
Haili Hughes is a terrifically engaging speaker. She is effortlessly academic yet reassuringly practical and accessible. She is top drawer.
I wanted to say a huge thank you for the refreshing CPD session we watched this morning. I will take a lot from it and know my colleagues felt the same.
Your story really resonated with me. Here's to defying all the odds and helping our disadvantaged students do the same!
Thank you so much for your time and your inspirational message - I wanted you to know it has had a really positive impact
Thank you so much for the superb sessions yesterday afternoon. We've had some excellent feedback from staff with plenty feeling they can use the strategies you shared as they move forward with the rest of this academic year and beyond
Haili was superb yesterday – highly informative, relevant and useful for all our staff. We very much hope to see her again in the future
Haili Hughes In Her Own words
'I FEEL IMMENSE PRIVILEGE TO BE A TEACHER. NOW I WANT TO HELP
OTHER TEACHERS FEEL THE SAME, EMPOWERING THEM TO FEEL A SENSE
OF POSITIVITY ABOUT STAYING IN THE CLASSROOM LONG TERM.'
Enjoy a free consultation. Make a booking.
Haggle a bit. All acceptable.