Jonathan Lear
Curriculum - Teaching and Learning - Creativity
The most common response from teachers who have travelled from across the country to see Jonathan Lear and his wonderful inner-city primary school where he is a deputy head is a sense of 'Why aren't we doing it like this?'.
And they don't really have an answer. After all, there is nothing stopping them apart from a sense that way we've always done it is the only way. But there's always another other way.
What Jonathan does is to bring the curriculum to life for children of all backgrounds and academic abilities through a combination of exciting and authentic real-life experiences, coupled with teaching children the skills of peer critique, mastery, thinking for themselves and taking a huge amount of care and pride in their work.
It is a no-nonsense approach to bringing the best out of children that hits all the right buttons when it comes to Ofsted and SATs, even though hitting the Ofsted and SATs buttons is the last thing they are trying to do.
What the whole school is driven by is making each day as enjoyable, effective, challenging and productive as possible. It is something that all the many visitors to the school see happening in a hugely inspiring way, one that does lead to the inevitable question – what's really stopping us all teaching like this?
"There's doing what's right and there's doing what you're told. You can choose."
Jonathan Lear
Recent titles include:
Doing What's Right or Doing What You're Told. Pick one!

The Art of Guerrilla Teaching

Curriculum Design and the Monkey-proof Box
Apart from being a first-rate educator and leader, Jonathan is also making a name for himself as an entertaining and challenging speaker who never fails to entertain and enthral an audience. Drawing on his experience both in the classroom and as a deputy head, he is not only able to share with his audiences many practical ideas to improve the quality and nature of teaching and learning in the classroom, but also an understanding from a leadership position of how to make change happen - and what might get in the way.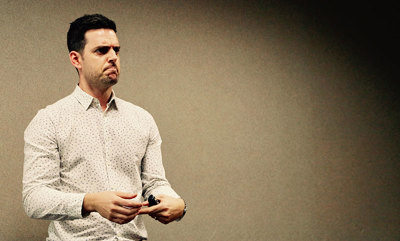 From the application of Robert A. Bjork's concept of 'desirable difficulty' and the teaching of self-regulated learning to getting lesson planning down to a fine art and proving how effective concept-based learning can be even in the most challenging inner-city environment, Jonathan's work shows what can be done.
It's a radical and inspiring approach to the primary curriculum that combines academic rigour and research, creativity, the bravery to trial new approaches and the confidence at leadership level to get rid of the things schools think they have to do to focus on embedding the stuff that really matters.
On top of that, Jonathan has also introduced the idea of Guerrilla Teaching to the world through his first book of the same name, encouraging teachers
everywhere to take the fight for a decent curriculum to the hills, regardless of what the latest government edict is. He has followed this up with a brand-new book cunningly entitled The Monkey-Proof Box, detailing the whole-school curriculum development work that schools can employ in order to bring teaching and learning to life in their own classrooms.
So, if you are looking for living proof that there is always another other way if you're brave enough to seize it, then Jonathan Lear is the Associate you have been looking for, no monkeying about.
That morning we had looking at your curriculum and the opportunities the kids are getting really gave me a boost. Just wanted to say thanks for the inspiration, it's made a massive difference to my job.
I've read all the evaluations and know how much the delegates appreciated your sessions – there are some absolutely glowing comments – no surprise!
Inspirational was a comment used a great deal on the evaluations – but I guess you are used to that!
We cannot recommend Jonathan Lear highly enough. We have had a fantastic day listening and laughing along with an inspirational, passionate and engaging speaker. So many possibilities for next steps with our curriculum. Thanks Jonathan!
Thank you again for giving such a great stimulus for our curriculum development and for presenting such a wealth of information in such an engaging, pacy way
The staff were literally buzzing
All three schools feedback was extremely positive due to Jonathan's inspiring insight in planning a more engaging curriculum for the children
Thank you. It was a brilliant day!!
Fantastic INSET delivered by Jonathan! So insightful and useful just before I embark on my NQT journey
Wow! What an inspiring man Jonathan is! Couldn't take my eyes (and ears) off him today at my training day. I am absolutely bubbling and brimming with ideas for our children! Thank you!
Thank you for your wonderful presentation on Friday morning, I loved the stuff you shared on curriculum planning, your ideas on it will save us re inventing the wheel. Thanks again Jonathan for your inspirational presentation. Teaching is crying out for more of the good guys like yourself.
We had a really great day today being inspired by @GuerrillaEd. Thank you for such an engaging, thought provoking and humour filled session!
Thank you for an inspirational two hours today, can't wait to read the book! You've reminded me exactly why I have the best job in the world.
An amazingly funny and yet inspirational teacher who really brought our team together
Thank you! You are the first person who has made any sense over "catch up"!
Thank you so much Jonathan, I will remember so much from this Zoom meeting
The Monkey Proof Box is amazing - we have based our curriculum on it
Many thanks Jonathan for a stimulating and thought provoking morning
Can I say a big thank you for your session today. You have motivated the staff and made them really think about where we are at the moment and where we want to go next.
Thank you so much for such an amazing presentation, your passion and enthusiasm for providing children with the very best life chances is so infectious. My SLT are already buzzing about the tweaks we can make to our curriculum as a result
I just wanted to say a huge thank you for yesterday. Your session was brilliant!

It was just wonderful how you catered for all Primary phases, included humour and provided lots of practical strategies.

Your input will help us to move our curriculum forward
Very engaging and focused advice. I will be using the concept map to inform our curriculum overview
The most useful, relevant training I've attended in ages
Jonathan Lear In His Own Words
"WE TALK A LOT ABOUT CHILDREN BEING SECONDARY READY, BUT HAND ON HEART,
IF WE SEND THEM UP WITHOUT THE ABILITY TO SUCCESSFULLY OPERATE A RANGE
OF SOFT FRUIT THEN WE'RE FAILING THEM." - THE MONKEY-PROOF BOX
Enjoy a free consultation. Make a booking.
Haggle a bit. All acceptable.