Adele Bates
Behaviour - Diversity and Inclusion - Classroom Management
Where do you start?
There's the Year Seven student who entered their first English lesson swearing and throwing things.

There's that teacher who is struggling with behaviour in their classroom and is threatening to resign.

And there's that lack of consistency across the organisation when it comes to behaviour, what to do to about it, how to respond to it and how to improve it.
For Adele, behaviour is the response to an unmet need. And this applies just as much to what the adults are communicating as to the children and young people in the school.
What's more the worse the behaviour, the more is being said.
In fact, what is being communicated the loudest is the need for the sort of school-wide support, training and direction that will help the teachers teach and the children thrive.
At a time where a zero-tolerance, no-excuses attitude towards classroom discipline is effectively state sanctioned, it is refreshing to find a behaviour specialist who knows that there is always another way when it comes to behaviour and classroom management. An approach that is about inclusion, understanding and support.
Which, of course, doesn't mean to say Adele is soft on poor behaviour. Far from it. It's just that she has a bigger battle to fight. One for - and not against - that child.
For over 18 years, Adele has taught in mainstream secondary schools, in Pupil Referral Units, in Alternative Provision and in SEND and SEMH schools as well as mentoring teachers. She has built an international reputation for supporting schools where behaviour is an issue but where the values of the leadership team and the wider school community are all about support, understanding and growth.

"There is no one way to 'do' behaviour. If there were, there'd be no need for detentions and our prisons would be empty"
Adele Bates
Recent titles include:
Building (and Re-Building) Relationships

Safety First (Learning Second)

Why Can't They Just Behave?! Trauma and Behaviour
Modeling - and expecting from others - flexibility and creativity when it comes to bringing the best out of all children and young people, Adele shows how every teacher can learn solutions and approaches that will work with that Monday morning class or that Friday afternoon one. And she is increasingly working with leadership teams on whole-school approaches to behaviour that can transform culture for all concerned.
For Adele, the key is to see behaviour as communication and she shows educators how their job is to listen to - and respond to - whatever unmet need is being expressed in a way that values the child without condoning or accepting the behaviour.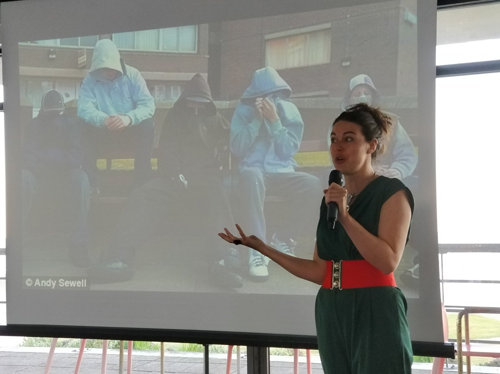 In this way relationships can be built in the classroom and across the school that help create an environment where everyone can learn and be part of something positive and supportive.
Whether it's identifying strategies to help deal with the 'naughty ones', the ones who just can't sit still or that child who knows just where your trigger point is and how to hit is, Adele shares strategies and ideas that never lose sight of the human beings in the room or the power of kindness in our interactions.
And she is proof that you don't have to me a male, an authoritarian or a 'geezer' to bring out the highest levels of behaviour and respect in children and young people.
What's more, Adele has a depth of understanding and experience when it comes to matters around SEND and SEMH and that all-important distinction between behaviour modification and the need for specific and targeted interventions to address specific learning needs.
Thank for speaking, it really resonated with a lot of the issues we face in my school, lots to think about and implement!
Invaluable, unlike any other training I've had. It surpassed my expectations – I've got so many new ideas.
I think the training you gave today was remarkable and is going to make such a marked difference.
Inspiring workshop that has directly affected my planning and teaching. I am now thinking very differently than I did before this session.
I feel more confident approaching young people, building relationships with them and making clear, kind requests.
Adele Bates In Her Own Words
"THINK OF THE PUPIL WHO CHALLENGES YOU THE MOST - NOW THINK
ABOUT WHAT THAT CHILD IS TEACHING YOU"
Enjoy a free consultation. Make a booking.
Haggle a bit. All acceptable.